SWEET HOME MONTESSORI COURSES


Parenting with Intention:
A Peaceful Home for Capable Kids
Raising children is one of the greatest joys this life has to offer, AND ohhhh my, it is hard. The hard stuff, with a little bit of grace, wrapped up in a whole lot of research-based practices can so quickly become the good stuff! Every one of us has the power to show up consistently as the peaceful and intentional parent we want to be. YES - even and especially when they are throwing a tantrum over the wrong pair of socks and things seems over the top chaotic. Guess what? I have been there, too! And if you are wondering if this whole parenting gig should feel so hard - you are not alone. It is hard, but there are so many ways to support our little ones (and ourselves) through it! Making that incredible shift from crying on the kitchen floor ourselves with them - to feeling so many more of those, "Ah-ha. This is it. This is what I was dreaming of" moments! This way of parenting is rooted in connection, unconditional love - in your parent/child relationship. It goes beyond quick bandaid parenting tricks which leave parents wondering, "Hey why did that work exactly two times and then never again?" and shifts gears to focus on actual long-term effective strategies.
So, where does Sweet Home Montessori come into play? Well, the research agrees that raising children rooted in connection, respect, empathy, and love is the key. Though that sounds wildly reassuring, we need the real, tangible tools, tips, and guidance to support their development. We need to know HOW to get to a place of confident, peaceful, and respectful parenting. Over a decade of experience in combining Montessori, RIE, and Positive Discipline Methodology has given me the informed and unique perspective and knowledge necessary to collaborate in and support your journey. Inspired by these beautiful, whole child approaches and backed by evidence based practices - this will cover A to Z in parenting and caregiving your children ages 1-5!
"There is simply no effort more radical in its potential for saving the world than a transformation of the way we raise our children."
It is truly the most important work in the world, this raising of good humans. To raise capable, kind, empathetic and confident children - ah, that is the goal, isn't it? Each child is so wonderfully unique and you know you're little best, that much is certainly true!
Let me be on your team, in your village, supporting you, encouraging you, and guiding you. We can do this. YOU can do this!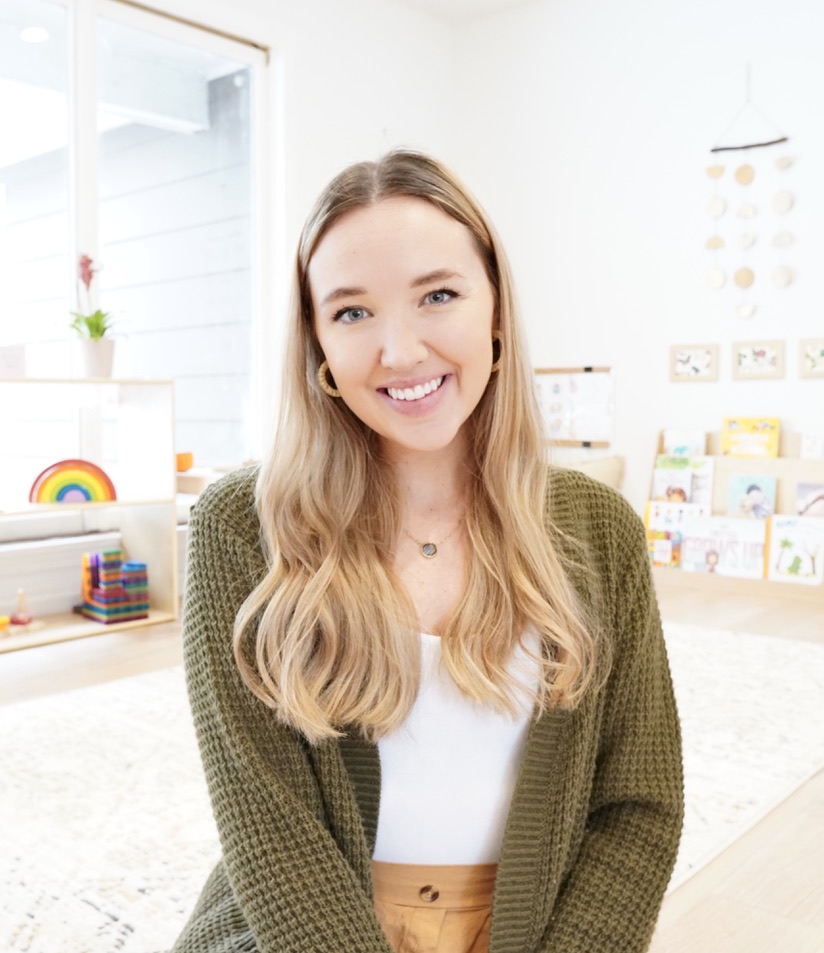 Hi, I'm Haley!
I am the founder of Sweet Home Montessori, Positive Parenting and Montessori Coach, Certified Montessori Teacher, toddler mama, and the wife of a wonderful middle school teacher.
My experience as a teacher, in-home caregiver, and 1:1 Montessori guide for families and their little ones brought me to discover my purpose in life, as a Parent Guide and Consultant. In college, I studied Early Care and Education, including a specialization in Early Childhood Development. I was placed in a Montessori preschool for student teaching and I knew the moment I stepped foot into that classroom, that I was where my heart belonged. It wasn't long after graduation that I decided go back to school and complete my Montessori Early Childhood (3–6 years) Diploma Program with The North American Montessori Center. I am also certified as a Positive Discipline Parent Educator and completed The RIE Foundations Theory & Observation Intensive Training.
Now as a SAHM, I miss the classroom and my students and yet, I still get to live out my passion thanks to all of you! Through consulting and teaching workshops, it feels as if I am exactly where I was meant to be. On this path of helping families, teaching children, and seeing real, beautiful connections organically unfold right before my eyes - I realized the impact of working with parents directly could be so fulfilling for me! We work together to support your children and stay true to your unique family beliefs and parenting styles. Working with parents grants me the gift of making an impact in the lives of children by going directly to the source - YOU! It is an honor to share these tools and work alongside you as we raise resilient, confident, kind and empathetic kids!